Fashion, art and Bauhaus:
Original color codes for 2019
In 2019 the centenary of the Bauhaus takes place, the extraordinary German art and design school founded in 1919. To celebrate the occasion, many leading design companies in different habitat sectors (Walter Knoll, Wilkhahn, Oluce, e15, …) have carried out some actions explicitly referencing a tribute or inspiration at the Bauhaus.  The Schoenbuch booth at IMM Kölnn 2019 presented its color code for 2019: tones marked by contrasts, generating a perfectly harmonious palette.
Moodboard from Carolin Sangha for Schoenbuck palette
For the Schönbuch 2019 color code, creative director Carolin Sangha got inspired by art, fashion, and the Bauhaus. The projects of the American artist Sterling Ruby were decisive. In particular, the world of color from his 2014 sculptures and collages. Ruby's collaboration with Belgian fashion designer Raf Simons, his joint fall 2014 collection, and Calvin Klein's major store designs gave him the idea of the color design of the Schönbuch stand at lMMKölnn2019.  The works of Bauhaus member textile artist Anni Albers, with their graphic elements and color contrasts, also influenced the visual presentation and design of Carolin Sangha. All this framework has allowed him to visualize and materialize the new Schoenbuch color concept, built up with glossy chromatic scales, with marvelous combinations over yellow backgrounds, citrus colors, tomato reds and flamingo pinks.
Yellow citrus color code. Schoenbuch booth.IMM Cologne 2019
At the IMM Cologne 2019 stand we could see how within each of those chromatic universes: yellow, red and pink (Bauhaus chromatic bases), a series of tones were unfolded through the different furniture, lamps and objects, whose nuances harmonized balanced across the three universes.
Código_color_rojo_tomate.Stand_Schoenbuch.IMM_Cologne_2019
Código_color_rosa_flamingo.Stand_Schoenbuch.IMM_Cologne_2019
Examples of the different shades described could be seen at the IMM Kölnn 2019 stand, through products such as:
Beugel.Gerrit T. Rietveld 1927 interpreted by Joost Swarte for Cassina 2018
This color strategy is intensively extended to all areas of interior design and decoration, as the collection of wallpapers designed and developed by Wallpaper to celebrate these 100 years of the Bauhaus shows. Within his collection, Murals Wallpaper has created a collection where the typical shapes and colors of the Bauhaus movement are transformed into wallpapers that give a modern interpretation of the style of this school. The overlapping of colors and shapes of the six designs is inspired by the work on color theory by Josef Albers, member of the Bauhaus.
Bold. Geometrics. Bauhaus Wallpaper 2019
Blue. Geometrics. Bauhaus Wallpaper 2019
Red.Geometrics_Bauhaus.Wallpaper_2019
Colourful._Geometrics_Bauhaus.Wallpaper_2019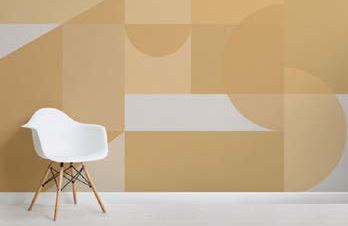 Yellow.Geometrics_Bauhaus.Wallpaper_2019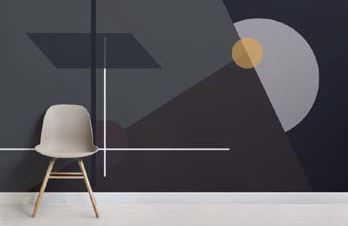 Mid-Century.Geometrics.Wallpaper_2019
These striking designs incorporate flat, concrete effect textures (micro-cement) inspired by the principles of Bauhaus architecture and present the school's iconic primary color palette in shades that are up-to-date, accessible and ideal for decorating your home, characterized by layered architectural forms and a movement of directions. These wallpapers use minimal lines to present a contrast of sharp angles and smooth-curved shapes. The simplicity of the geometric shapes and the colors used give rise to striking designs with great character. The dynamic and asymmetrical shapes of the original Bauhaus posters are presented here in large murals, which would not have been possible using traditional upholstery scrolls with repeated patterns.
Bauhaus basics from Valresa smart coatings 2019
Valresa Smart Coatings, have developed a chromatic pattern Bauhaus style, having seen how the Bauhaus enthusiast focused on designs and a collection of objects and specially designed furniture, to provide its clients access to such Bauhaus-inspired scale to develop their own projects.
This is a tribute to the vision of the Bauhaus art school, which meant the road to modern art and after 100 years continue to be, one of the most influential product design concepts for habitat and interiors.